Takeaway Online Ordering Website Design for Food Delivery

Start accepting orders online without high commission charges by getting your own takeaway online ordering website design or food delivery website design for your takeaway business. Our takeaway website solutions comes with a great looking website design and a user friendly takeaway ordering system so your customers will return back to order online again.
We have created a very easy to use website for takeaway delivery website design to offer all takeaways cost effective online ordering website.
The takeaway ordering system is so easy to use, when an order is placed online the customer will receive an email or SMS confirmation, then the receipt printer in your takeaway that we supply will sound an alarm notification and print the order for you to get ready. The online orders can be for delivery or collection, whatever your customer chooses it will be clear on the receipt.
Your customer details are collected on the system so you can send out email or SMS with offers etc… to increase repeat orders. As your takeaway ordering system or food delivery website design will be easy to use your customers will not hesitate to order online again!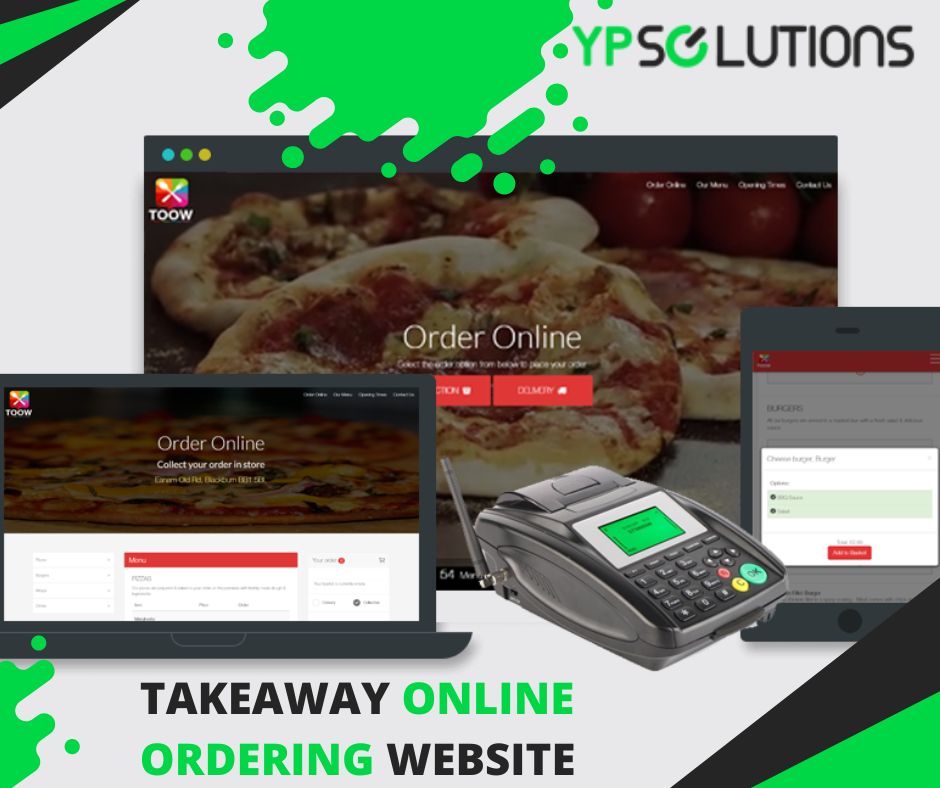 YP Solutions Ltd., A dynamic website design agency based in Blackburn offers takeaway online ordering website for food business. Today in this digital world 99% of businesses are coming online in order to get maximum reach to customers. We all are aware that, in the food business competition is very high compared to any other business. So, if you want to get a good stand then you must give good services to your customers. We can help you in this by designing a takeaway ordering system with all the required provisions.
Takeaway ordering system will drive more and more sales towards your dinning business. The reason is using this system customers can order online their food easily. Nowadays people are inclined towards digitisation and everything is searched online and order. Hence, if you are looking to be in the race of competition, you should definitely create a takeaway ordering system. YP Solutions Ltd. is well versed worth with takeaway online ordering website design and has delivered lots of projects.
What We Offer in Takeaway Online Ordering Website System
When we start creating a takeaway ordering system for the client, we always ensure to showcase their maximum worth to the end user. Whenever a user searches for your services, it must be reflected on search engines. Hence, we always do programming by keeping all the needs.
Furthermore, during designing we use original images and content in order to avoid copyright issues. We also keep it attractive so that people would get interested in ordering through the website.
We offer custom domain URL and associate social media accounts to the website so that traffic of social media pages could be driven to the food delivery website.
During the creation of the takeaway ordering system, we keep the mobile friendly design because nowadays people do searches through mobile only. Hence, we ensure to maintain the response of the website at mobile view as well.
Payment gateway integration is done in order to give a provision of making online payment. Cash on Delivery option is also given. These features give options to the users and they can select based on their choice.
How YP Solutions Ltd.'s Takeaway Ordering System Works
Step 1: Open takeaway ordering system
Step 2: Choose collection or delivery
Step 3: Enter post code to check delivery distance
Step 4: Pick your items, with simple filter options
Step 5: Easy add extras, if you want to add
Step 6: Enter your details and add notes for the takeaway
Step 7: Select payment method, pay using card or cash
Step 8: Sending your order, to the takeaway printer
Step 9: Printing order, full order details printed
Step 10: Select ok to accept, choose delivery time for the order
Step 11: Updates status for customer, confirming the delivery time
Step 12: Customer receives SMS, with delivery time and contact details
Step 13: Track your order
Customisable Features of Takeaway Ordering Website as Per Requirement
We integrate all the features that are needed for online ordering. We ensure users should get whatever they want.
Details of Restaurant: All the details about the foundation of restaurants along with its achievement are mentioned here.
OTP Verification: To maintain the authenticity of the user, we have kept the provision of OTP verification.
Detailed Menu based Categories: Users will get the list of menu items prior to start ordering.
Images of Food and Drinks: High quality images of food and drinks will be shown on the site.
Opening and Closing Hours: Users will be able to see the opening and closing hours.
Contact Us Form: To get the details of users, we also add contact form.
Map location of Restaurant: To track the location of a restaurant, map feature is integrated.
Order History Management: All orders of the user will be saved in the section of Order History.
User's Address Management: Users will be able to Add, Update, Delete their addresses.
Add to cart Option: All the food items will be added to the cart.
Testimonial Section: The feedback of the user will be shown in the testimonial section.
Online Payment Gateway: Third party payment gateway will be used for online payment.
YP Solutions Ltd.'s takeaway ordering website makes an easy online food ordering system for both owner and customers. Hence take your food business online and start growing.